Fewer tourists, snowy scenes, long conversations and vodka shots—there's a coziness and unity that makes traveling on Russia's legendary Trans-Siberian Railway over winter extra-special, finds Caroline Eden.
The Trans-Siberian Railway, stretching 9,288 kilometers from Moscow to Vladivostok, is at its best in wintertime. Gone are the other tourists—and the mosquitoes that plague Siberia in the summer—and taking their place are more Russian commuters, cozy carriages and heart-stopping snowy scenery, from frozen lakes to miles of snow-clad forests.
The train ride is much more than an A-B trip. It's the chance to travel across the largest country on earth on a seven-day journey—and an opportunity to shift perceptions about Russian people, who are generally, and contrary to popular belief in the West, warm and friendly, not cold and distant.
Setting forth
It's mid-February and inside Moscow's Yaroslavsky railway station, a pianist's fingers hammer out an aria from Georges Bizet's opera Carmen on a grand piano. Young army sergeants lug their camouflage rucksacks up escalators while policemen, in huge black fur hats, surveyed the scene.
RELATED: On the road with Uzbekistan's modern-day pilgrims
Above, decorating the railway station in stucco plaster and tilework, are pastoral scenes of strawberries and harvests alongside giant hammer and sickles, evocative images promising a far-off summer.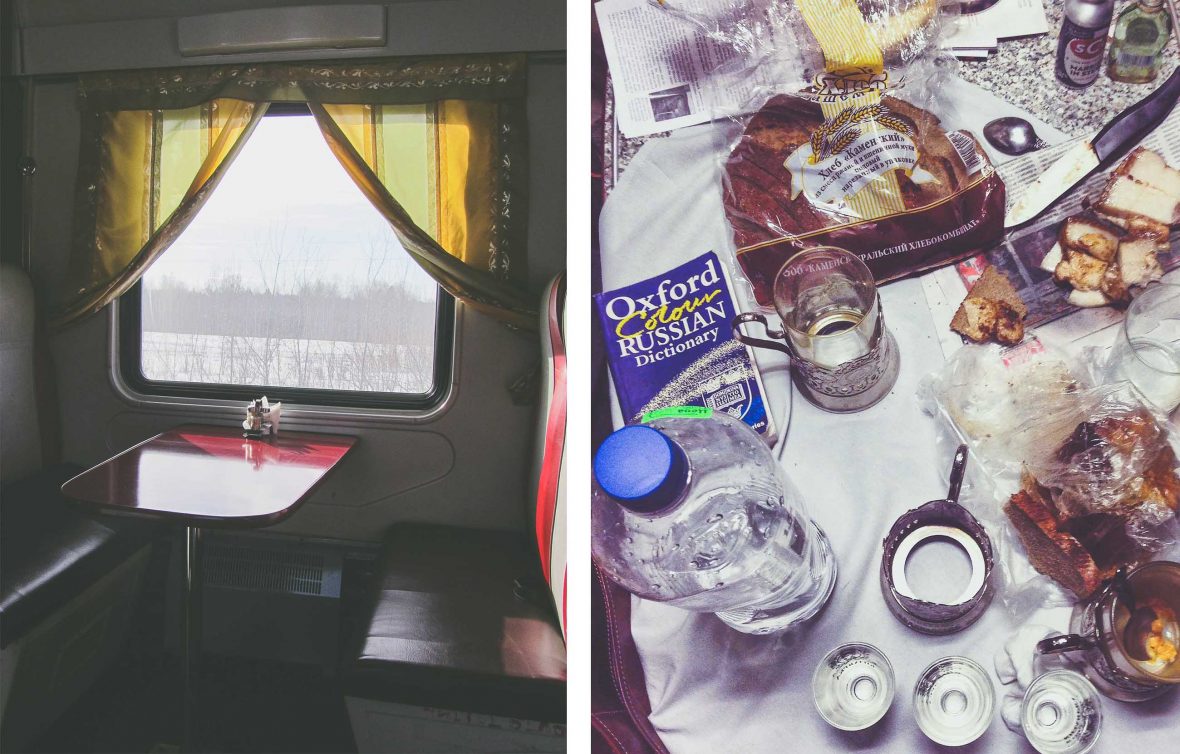 Outside, Moscow looks bleak and cold. As I wait for my train, I pick up the chunky Russian literature books I've optimistically packed; books I'd never bothered to tackle before, to my shame. Now, I'd have plenty of time aboard the 'Rossiya' (Russia) train, 140 hours or so.
At least, that's my thinking. The fact that the current railway building—completed in 1904—was overseen by engineer Fyodor Chizhov, editor to pre-eminent Russian dramatist and author Nikolai Gogol, seems a good omen for bookish aspirations. But I soon find out that these ambitious reading plans are futile. The scenery on-board is just too hypnotizing, the conversations too engaging, the carriages too sleep-inducingly cozy.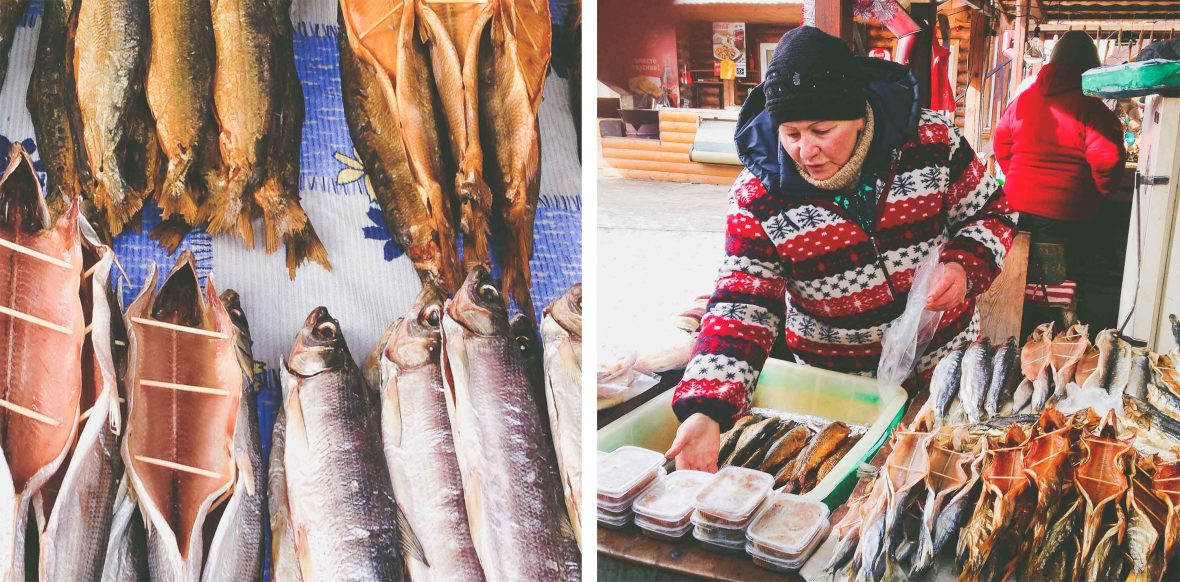 A Trans-Siberian pinic
Vladimir, 191 kilometers from Moscow. Snow glitters outside and is piled so thick on top of dachas (summer houses) that the rickety roofs look set to collapse. A short-lived, honeyed light washes in through the grubby windows at 4.30pm, before darkness quickly falls. Short days, long nights. Inside the deserted but warm dining car, with its frilly curtains and Formica tables, I order potatoes and mushrooms, with a dusting of dill and a lot of vegetable oil.
"Why is on-one here in the dining car?" I ask the provodnista (conductor). "They all picnic in the cabins", she says glumly.
I sit glued to the window watching rural Russia deal with winter … It's beautiful, captivating; it's quintessentially 'Russia'.
By the time I return after weaving through connecting carriages, I have new cabin-mates, a young Russian couple on holiday. They've come prepared, setting up a table with slim vodka bottles, a greasy slab of salo (cured pork fat) and heavy black bread.
They smile, I sit and the feast goes on for the best part of the night. As we creak to a stop at tiny railway stations, and leap out for lung-freezing gasps of fresh air, fat snow falls on icy platforms and cigarette smoke from a dozen nicotine-hungry passengers fills the night air.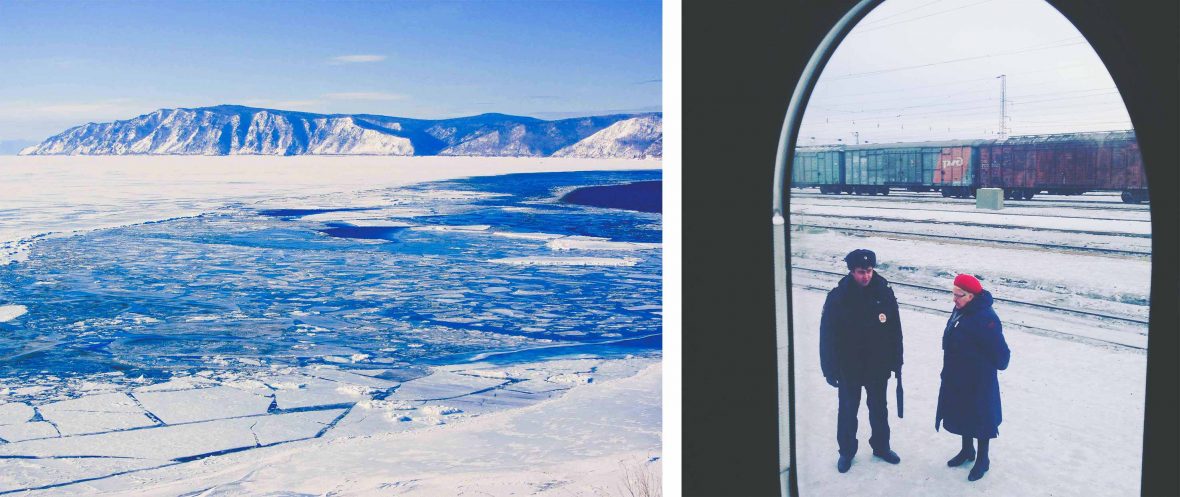 The next day, we trundle past log-choppers, ice-fishermen, bushy tailed dogs, taiga (snow forest) and frozen swamp. I sit glued to the window watching rural Russia deal with winter. A motorbike and sidecar rattle past with two children aboard, timber gingerbread houses puff smoke from chimneys and milky-white snow covers everything and everyone. It's beautiful, captivating; it's quintessentially 'Russia'.
Time slips and loses meaning. Have I been aboard for two days now or three? The scenery is so hypnotic that I consider ditching the weight of my Russian literature books altogether in the dining car, leaving them for someone else to tackle.
A Russophile friend tells me: "Russians love train travel because of the togetherness it provides." I keep thinking of that, and realize that was why I liked it too.
My new friends leave and new people arrive. Yvgeny, an ice hockey referee, slopes into the cabin, sits down and tells me: "The Europe-Asia marker is coming up—quick, go to the window". I catch a glimpse of the unremarkable stone marking the spot that divides the continents.
"This is a good place for mushrooms in the summer, and white grapes, bunches as big as melons," he adds, stretching out his gnarled hands. The provodnistas, I notice, sit for most of the day in a cabin at the end of the carriage, dyed cherry-red hair in rollers, feet in slippers, radio on.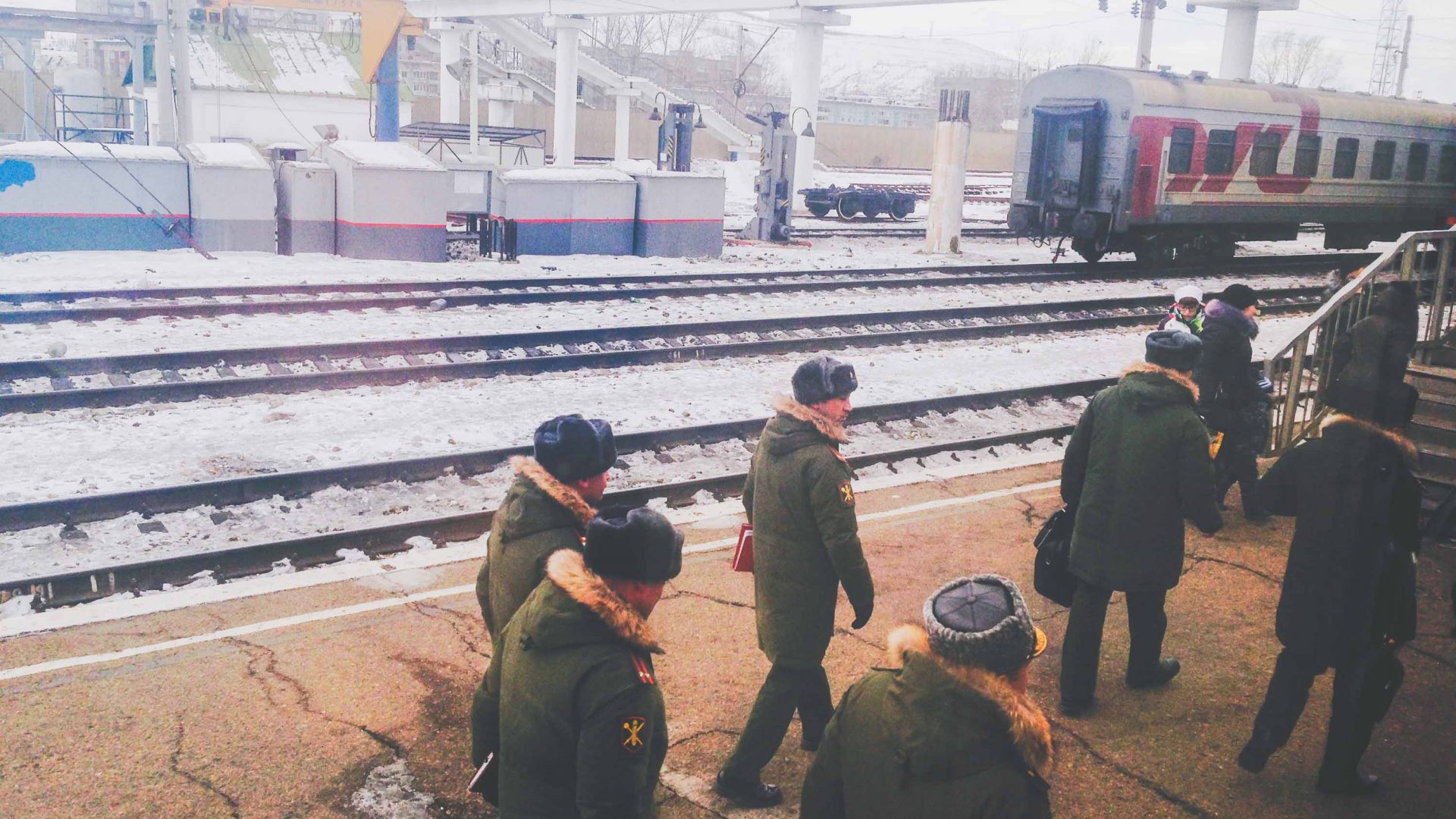 Off the train
The train quickly becomes home. Routines set in: First to the samovar (water boiler) for tea, then a quick face wash (but no shower), then rehydrate noodles at the samovar for lunch, sup beer in the dining car, eat, chat, repeat. But after a while, you need to get off.
RELATED: What's it like to vacation in authoritarian Turkmenistan?
After three nights, the city of Irkutsk offers a brief respite. Under a pastel blue sky, I walk on nearby Lake Baikal, frozen so solid that cars drive across its translucent surface, then try oily smoked omul fish at a café. It's all pleasingly deserted, unlike summertime. At one church, carved ice icons stand in the snow, glowing; they're surreal and unlike anything I've seen before—again, impossible in summer. Irkutsk has pretty wooden houses, atmospheric churches, a synagogue and good restaurants. I'd like to spend more time here, but the train has other plans.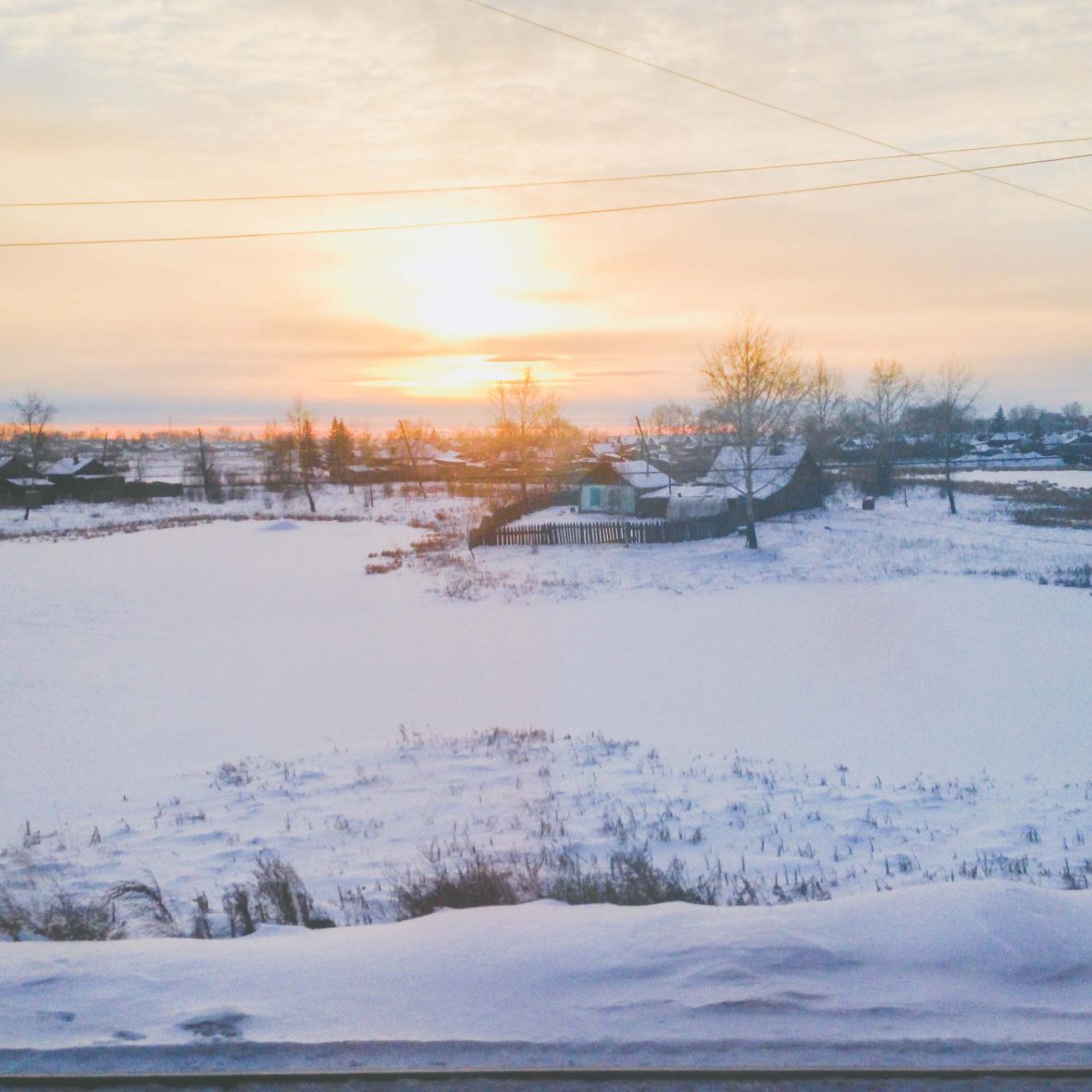 The last leg
Back on the train, my new cabin friends are another young couple, Vasily and Tatiana. They hadn't left Siberia ever, let alone Russia, and are inquisitive and generous. "This is our dog … and this is our house," Tatiana says, showing me photographs on her phone.
For the next couple of nights, we all fall into an easy chatty mode; broken English, broken Russian, dictionaries to hand, and the cabin feels like home—or more, their home where I'm a guest and they make me comfortable. "Please, here, vodka. Another tea bag, take! A cup of 'champanski' with us, it is Valentine's Day." My sloe gin, too sickly, too sweet, is not to Tatiana's taste. But the shortbread is. All too soon, Vladivostok comes and I disembark, emails exchanged, legs wobbly like stepping off a boat. The following day, it would take me nine hours to fly back to Moscow.
When I return home, books still unread, my head is full of snow, taiga and frozen lakes. A Russophile friend tells me: "Russians love train travel because of the togetherness it provides." I keep thinking of that, and realize that was why I liked it too. It's togetherness that makes 143 hours and 9,289 kilometers of train travel in the depths of a Russian winter not only doable, but fun and rewarding too.
In the 'mizzle' (a Cornish word for drizzly rain and mist) of Cornwall, Jacob Little finds a peaceful, community-focused world away from the summer crowds. It's winter. The Cornish wind whips around the crooks and crevices of the county's boundaries, infiltrating all the empty spaces, where there are no people. From the tops of the…
Want the latest from FoundEdge?
Sign up for our newsletter.